Our MVP is abroad so only 20 points this week.
Archbishop Chaput
( 1 points ) 1 Facebook post
(3 points) Celebration of Mass of Corpus Christi and homily.
Audio link here
.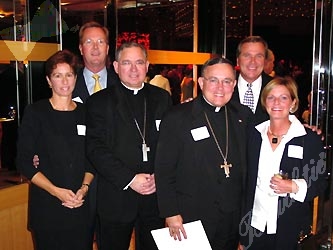 Then Bishop Gomez and Archbishop Chaput at a reception
a few years ago.
The Archbishop is in Rome this week for the celebration of Archbishop Gomez' pallium. Congrats, Archbishop Gomez. The Boys of Sunday are blessed to have you.
Pat Buchanan, not to be confused with
Pat Robertson (an idiot)
(3 points) Pundit Pat Buchanan wrote an article titled,
"The Death of Moral Community"
for The American Conservative, an online and print publication whose
site can be found here
.
"The opponents (of same-sex marriage) have no case other than ignorance and misconception and prejudice."
So
writes
Richard Cohen in his celebratory column about Gov. Andrew Cuomo's role in legalizing gay marriage in New York state.
Now, given that no nation in 20 centuries of Christendom legalized homosexual marriage, and, in this century, majorities in all 31 states where it has been on the ballot have rejected it, Cohen is pretty much saying that, since the time of Christ, Western history has been an endless Dark Age dominated by moral ignoramuses and bigots...
"A new kind of America is emerging in the early 21st century," said Archbishop Charles Chaput of Denver last week, "and it's likely to be much less friendly to religious faith than anything in the nation's past."

He added, pointedly, "If Catholic social services should be forced to alter their Catholic beliefs on marriage, the family, social justice, sexuality (and) abortion," they should terminate those services.

Prediction: We are entering an era where communities will secede from one another and civil disobedience on moral grounds will become as common as it was in the days of segregation.
(3 points) Public appearance in Rome and a speech covered by The Catholic News Agency
in this article
.
Satan as depicted in the cartoon,
South Park
.- Archbishop Charles J. Chaput of Denver

followed his keynote address to the Emmanuel Community of Rome's conference on "Priests and Laity in the Mission" with a short reflection on the "disappointing times" he is experiencing. He also elaborated on a major theme of his talk—the reality of Satan and the importance of "spiritual combat."
(3 points) In a column dated July 1 for the magazine, First Things, Archbishop Chaput takes the US Supreme Court to task for condoning violent video games for children as part of the children's free speech.
violence in, violence out
Twelve years have passed, but very few Coloradans have forgotten the name of Columbine High School. I spent the days after the April 20, 1999, Columbine school massacre with my brother priests, burying the dead, visiting the families of victims and trying to make sense of the violence to the wider community. On May 4 that year I spoke to a special session of the U.S. Senate Committee on Commerce, Science and Transportation. The Committee's focus was "marketing violence to children." ...

Scalia is a skilled, persuasive thinker.

Given the country's bizarre political climate wherein certain kinds of religious teaching are now attacked as hate speech, Catholics might be grateful to the Court for reaffirming limits on what lawmakers can and cannot ban. But Justice Scalia dismisses the differing views on the Court too quickly. Those views have weight. They deserve attention.
The whole article is really good,
read it here
.
Bishop Olmsted
Contact reporter Mike Sakal:
msakal@evtrib.com or (480) 898-6533
(3 points) Posted June 30: The bishop's actions protecting children from possibly preditory priests was written about in a column of a local paper. The article is not about the bishop but mentions him as the head of the diocese. The article is about The Catholic church as a whole. Indeed the bishops represent the whole.
Well written article
.



Whether or not the Rev. Jack Spaulding, the former priest at St. Timothy's Catholic Community in Mesa, is found guilty of sexual conduct with a minor, a tragedy has occurred.

Either an innocent child was sexually abused, or, a man whose life and calling have been built on trust and faith has been wrongfully accused - a blemish that can be very hard to erase, even if it turns out to be false.
(3 points) Posted June 30, Bishop Olmsted has appointed a replacement priest for the one who stands accused of sexual misconduct. The story
is here
. I'm giving this 3 points because the paper is secular.
This is old and doesn't count for Bishball, but it's so awesome, I needed to put it in the blog here.
<iframe width="560" height="349" src="http://www.youtube.com/embed/OsOgpgQXcgQ" frameborder="0" allowfullscreen></iframe>
Bishop McManus
(1 points) Posted June 30, The Catholic Free Press in an article about the increased appointments of Hispanics to clerical and other leadership positions within the church spoke about Bishop McManus.
Msgr. Scollen said Bishop McManus and the personnel board try to do what's best for the common good.
"I look at this as the glass is half full," he said. "The Church is going forward; we have to go with the Church."