41 Points for us all!
Chaput [22]
(3 points) Mass on Sunday in the Cathedral.
Here is the homily
.
(3 points) Committee of Vicars and Directors meeting at the John Paul II Center at 9:30 am.
(1 point) Facebook post on July 12
(1 point)
Prolifeblogs.com
used The Archbishop's words as their thought of the day.
Here it is
.
"Pick up your cross and follow me."
"The world urgently needs a re-awakening of the Church in our actions and in our public and private witness...We need really to believe what we say we believe. Then we need to prove it by the witness of our lives.
(3 points) In an article for
The National Catholic Register
, Archbishop Chaput sets forth Muslim education and their use of the Koran to teach reading and their culture's educational habit of discussing the Koran at length every day as an example for Christians. Indeed, the Archbishop says that the Muslims got that idea from us!
Muslims didn't develop their admirable piety in a vacuum. They borrowed their reverence from Jews and early Christians, who had a profound love for the written Word of God in the Old and New Testaments. The lesson for us today is simple. American Catholics have the one true Word of God in the Bible. If we took just one hour of the time we waste on television every day and used it to study and pray over the Gospels, we'd be fundamentally different people, and our country and our world would be transformed.
(1 point) Blog on the LG Magazine site has a post about Archbishop Chaput,
"Our Choices Shape Our Eternity."
(1 point) Mentioned as one of four archbishops who might take Regali's place in Philadelphia
in an article
published July 14 by The National Catholic Register.
(3 points) Posted July 15, this is a video of Archbishop Chaput tending to his Hispanic, charismatic flock. He discusses the Holy Spirit.
(1 point)
A Deacon's Wife
muses how wasting time has eternal consequences. She quotes the good Archbishop.
Future Cardinal of Chicago or Philly?
Cardinal Rigali of Philadelphia
(1 point, because they mentioned him)
(3 points, because it's a big paper)
(5 points, because there is urgent talk for him to be Cardinal, reverse Smack-down, a lifting up!)
Pick one of the above, not sure how it figures.
Dated July 15 in The Vatican Insider newspaper, journalist Marco Tosatti writes,
Archbishop of Denver, Charles Chaput, a man of Indian origin, is the next likely choice for succession. His name also came up for the Archdiocese of Chicago, whose head, George, is facing health problems and could ask the Pope for a substitution. But the current uncertainty regarding Chicago could push the Vatican to resolve the Philadelphia crisis first
(1 point) Dated July 17, blogger
OneCatholicNews
quoted a Zenit interview of Catholic visionary, Timothy Busch.
ZENIT: The tagline for the Napa Institute is "Equipping Catholics in the Next America." What is meant by the "Next America?"
Busch: The "Next America" is a concept developed by Archbishop Charles Chaput, who has advised throughout the development of the Napa Institute. In a wonderful essay that he published on the First Things Web site, Archbishop Chaput describes a "next America" in which American religious loyalties are "steadily softening" and "Catholics will likely find it harder, not easier, to influence the course of American culture, or even to live their faith authentically." Why? Because the culture is becoming increasingly secularized and skeptical of orthodox religious observance.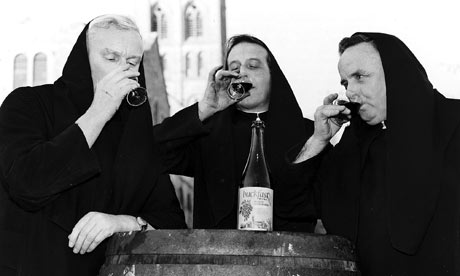 I made the quote above the color of wine because Busch is a man after my own heart. This is how the article begins,
NAPA, California, JULY 15, 2011 (Zenit.org).- The Napa Valley, known for its high-quality wine industry and for being a top destination for wine lovers, will be the gathering spot this July for committed Catholics interested in discussing the future role of faith in the United States.
The Napa Institute, founded by Timothy Busch, will launch its first annual conference July 28-41 at the Meritage Resort and Spa in Napa. The institute seeks to promote and defend Catholic thought and beliefs in an increasingly secular society, which the institute refers to as "the next America."
Only Catholics would think to make sure they can get a good glass of wine in a perfect climate as they discuss the religious future of the church. I love this!
Busch is a man after my heart. He's having a conference in Napa Valley at the end of the month.
(1 point)
Whispers in the Loggia's
post compares the censure of the Bishop in Cleveland with that of the Bishop in Queensland last year. Archbishop Chaput was dispached by the Vatican to handle that Australian issue.
MONDAY, JULY 11, 2011
Cleveland Rocked: Vatican Probes Bishop, Church Closings
(1 point) A short July 16 post on the
Always Jason blog musing
that Archbishop Chaput is long overdue to become a Cardinal.
Olmsted [11]
(3 points) In an interview posted July 13, The Spitzer Center's site features
a video and article
from Bishop Olmsted.
(3 points) The Bishop's Hour radio show. A production of the Diocese of Phoenix, Bishop Olmsted speaks to his flock every Monday at 10am on Immaculate Heart Radio.
This episode
was made available this week online.
(
1 point,
5 points) Bishop Olmsted was mentioned in an
AZ Central article
about the very low rates of contributions to the Catholic Church.
Giving to a major Catholic fundraising effort has declined to its lowest level in 12 years, the fourth consecutive year that donations have dropped. Read more: http://www.azcentral.com/news/articles/2011/07/15/20110715catholic-fundraising-falls-short.html#ixzz1SJjAxpk6
The article then speculates that the reasons for the decline could include Bishop Olmsted's excommunication of a hospital, his opposition to gay marriage, etc. The smack-down is in the comments!




The real reasons are three fold. 1. The economy. 2. This bishop and his arch conservative minions are obsessed with two subjects, abortion and homosexuality, thus they lack spirituality, but somehow they find money to inject themselves into governmental policy matters. 3. The hierarchy is also obsessed with rules, regulations and the "proper" procedures on all matters of dogma, which removes the spirirtual and humanity from the Church. Thus it is clear many people are voting with their feet and wallets.

Read more: http://www.azcentral.com/news/articles/2011/07/15/20110715catholic-fundraising-falls-short.html#ixzz1SJjcZiNg
McManus [7]
(3 points) Public appearance with other bishops from Massachusetts at a conference that explores morality and cutting edge scientific practice. This was reported
in a blog on July 12
.
signatories include Bishop George Coleman of the Diocese of Fall River, Bishop Timothy McDonnell of the Diocese of Springfield and Bishop Robert McManus of the Diocese of Worcester.
(3 points) Interview about the future of Catholic education on
CatholicTV
.
(1 point)
Message board post
about McManus on Catholic Forum Fisheaters. It's through the Diocese of Boston.
Diocese of Worcester

is my old home....Bishop McManus has taken some good public stands, but the diocese overall is just a big happy-clappy NO mess.
I would never have found this without Google. This message board is for the hardcore Latin crowd.