Kung's Bane logo. Can't figure out how to add a caption.
My dream player, Cardinal O'Malley is at the left, I'm
hoping to draft him in August. What do you think?
Do you love how McManus' face goes so well on Charlie
Sheen's body?
Chaput
(1 point) Local Catholic paper editorial regarding a misunderstanding of something Chaput had said. There is much hot-under-the-collar stuff such as...
Newton does not actually believe that Archbishop Chaput (whom he refuses to call by name) advocates that priests break the seal of the confessional.





To even suggest that is irresponsible to the faithful and insulting to the archbishop's intelligence, dedication to the faith, and pastoral sense. It also shows Father Newton's ignorance of or disregard for the specifics of Canon Law.
(5 points, graceful handling of sex abuse issue)
In an article in
The National Catholic Register
, Archbishop Chaput defends the church's actions and commitment to justice.
Priests aren't being "thrown under the bus," if the "Charter for the Protection of Children and Young People" is followed correctly, Archbishop Charles Chaput of Denver affirmed.

Archbishop Chaput has confronted the problem of clergy sexual abuse in his diocese. He also addressed the broader impact of clergy misconduct on a global religious order as the Vatican's U.S. apostolic investigator of the Legion of Christ. He has emerged as one of the Vatican's "go-to" episcopal investigators.
Archbishop Chaput
(Sha-poo, emphasis on second syllable)
Last year, when allegations of sexual misconduct involving minors were leveled against two Denver priests, Archbishop Chaput immediately placed each priest on administrative leave. He publicly noted their record of service and stressed the assumption of innocence for the accused. But he also defended his prompt action, describing it as "a necessary course to protect people's trust in their parish and in the archdiocese. In this case, and in any other such case that may occur in the future, we follow diocesan and national policies that exist to serve the safety of our people and to respect the suffering and dignity of victims. These priorities are vitally important, and they will not change."
(1 point) June 22, Catholic News Agency story "
Archbishop Chaput warns about Catholic institutions losing religious identity
"
"The more that Catholic universities or hospitals mute their religious identity; the more that Catholic social ministries weaken their religious character ... the less useful to the Gospel they become," he said.
Meet Archbishop Chaput, Our MVP!
I crave your indulgence, just one more video. You've got to get to know this guy. He's AMAZING! I'm so sorry that Scott, the manager of Kung's Bane is not able to manage right now, but, what a blessing to get to know these amazing bishops!
(3 points, article with quotes of the Archbishop) America becoming "much less friendly to religious fredom: Archbishop issued stark warning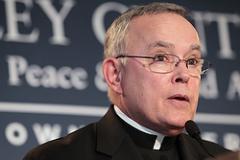 In this article, dated June 22, Archbishop Chaput says...
"As Catholic social agencies and hospitals in America face growing persecution from secularist, anti-life forces, they must embrace a radical faithfulness and a vigorous Catholic identity if they are to survive", said Archbishop Charles J. Chaput of Denver this week.
"The more that Catholic universities or hospitals mute their religious identity, the more that Catholic social ministries weaken their religious character ... the less useful to the Gospel they become,"
(1 point) General blog post praising The Archbishop. One of the commenters said this well, "The archbishop wanted to warn against simply wanting to appear charitable and not actually being charitable."
(1 point) The Archbishop is quoted in an article about a schismatic group in Trenton, New Jersey. The piece was published June 24 in The Atlantic Highlands Herald, an online paper.
"Christianity is both a comfort and challenge. When we accept what is comforting without accepting what challenges us, we stop striving for holiness. When we dispute what we do not understand, instead of prayerfully and earnestly seeking truth, we stop seeking Christ.
"
(3 points) Trinity homily posted audio feed during the week following Trinity Sunday. He combines this with a Father's Day message
Here is the feed,
a nice homily.
(1 point) His address on June 21 for Catholic Social Workers National Association is titled "Renewing the Mission of Catholic Charities. This address was written about above and already earned 3 points. The
Archdiocese published the address
online in the middle of the week.
Bishop McManus
(1 point)
blog post about his appointment of financial officers for the diocese
.
"I am pleased to announce at this time that I have appointed Jerry Jussaume and Carol Adams as co-directors of the diocesan Office of Fiscal Affairs," the bishop said. "They will succeed Msgr. Thomas Sullivan who has served as the director of the office for the past several years but who has now been appointed as a pastor."




Bishop McManus has appointed Jerome D. Jussaume and Carol A. Adams co-directors of the diocesan Office of Fiscal Affairs, effective July 1.
(1 point) Bishop McManus donated his easement to the City of Milford for their town improvements. He was one of several land and business owners to do so.
This published online
and in Milford's town newspaper June 22.
(1 point) On the blog,
The Anglo-Catholic
, Bishop McManus is part of a list of Catholic Bishops who are to implement the new Anglo-Catholic rite in the United States. The author quoted Chesterton liberally. Very nice!
(3 points) In the secular, Worcester Telegram and Gazette, Bishop McManus is reported to be moving new priests into several churches because they were just ordained and other priests are set to retire.
(3 points) Bishop McManus dedicated a new, merged church after Blessed Pope John Paul II. The article posted in print and online June 25, 2011.
"The changes in the social fabric of our communities demand changes in our parishes to meet new needs, new challenges, and, most especially, new opportunities to share the gospel of Jesus Christ," said
Bishop McManus
when the merger was announced.
Bishop Olmsted
(3 points) This very cool article has the option of audio with actual clips of the people quoted, including Bishop Olmsted. The article discusses the high abortion rates for Hispanic women in the Southeastern US.
(3 points) The good Bishop presided over the mass for women. Many lovely and faithful women were honored after the mass. I don't know if you'll knock this down to 1 point because I don't have a direct quote from the Bishop and it was reported on a diocesan blog.
(3 points) Interview for Faith and Life TV, posted June 23.
(5 points) Bishop Olmsted suspended two priests under credible accusations of sexual misconduct with a minor.
The sexual misconduct claim involved actions that allegedly occurred over 25 years ago when Fr. Spaulding was the pastor of St. Maria Goretti parish in Scottsdale.
Bishop Olmsted accepted the Review Board's determination, and the case will be referred to the Congregation for the Doctrine of the Faith in Rome for further proceedings.